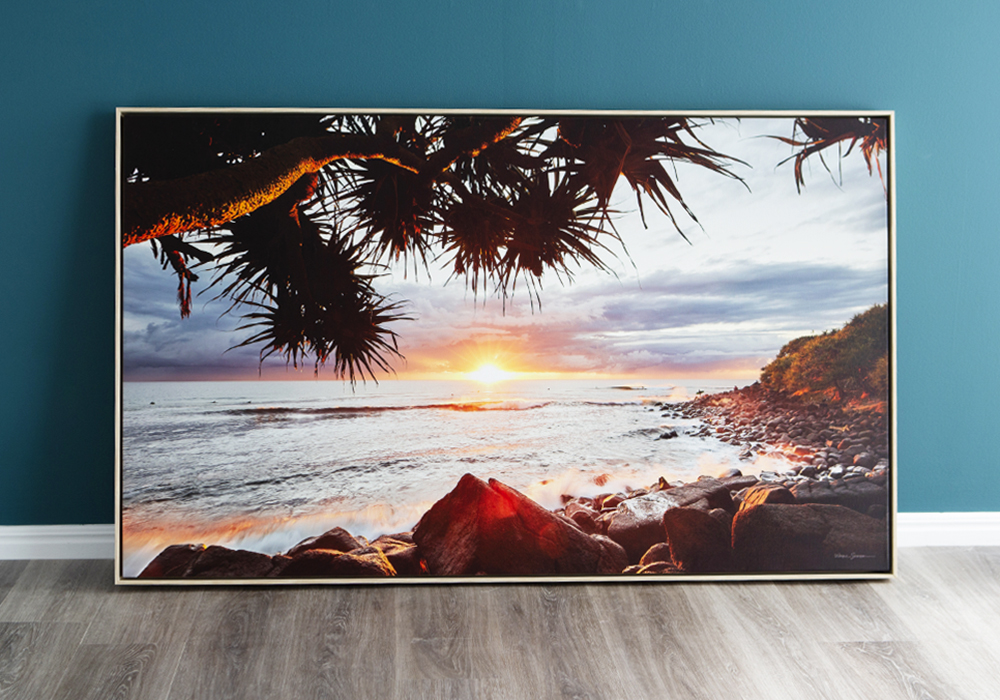 Transform your walls into a modern art gallery with our comprehensive canvas printing and framing services. 
Create individual, split or multiple canvases with our tailored printing solutions that allow you to design canvases exactly to your specifications. 
Choose from a plethora of standard sizes and formats including square, rectangle, panoramic or create your own custom sizes with the help of lab technicians. 
With quality and excellence at the forefront of our business, we use the very best museum-grade materials to ensure your canvas print will last for years to come, guaranteed! 
We print and ship from our Gold Coast print lab directly to you, Australia wide or pick up in-store.
Order standard size canvas prints online or send them directly via Wetransfer or Dropbox. For custom sizes, we recommend sending direct. 
Canvases made for professionals by professionals
Learn why photographers, artists and interior designs love our canvas prints.
Finishing Options
Turn-Around Time
Pricing Square
Pricing Rectangle
Rectangle Panoramic
Pricing A4 - A0
Finishing Options
STRETCHER BARS / CANVAS THICKNESS
Our photos on canvas are offered in three different stretcher bars sizes:
Slim Wrap (18mm thick)
Gallery Wrap (32mm thick)
Exhibition Wrap (38mm thick).
We can also supply you your canvas as 'Print Only' which means it will come rolled in a tube and not stretched.
CANVAS EDGE EFFECTS
There are multiple options for your canvases edge effects because sometimes you don't want to loose any of the image from the face of the canvas.
Image Wrap –  This is the traditional default method where the images continues to wrap around the edge of the canvas. 
Mirror Border – A mirror border is where the image is mirrored on the edges. *This wrap is not ideal for images with body parts close to the edge of the print.
Colour Border – A colour border lets you select a specific colour to add to the edges of your canvas. 
FLOAT FRAME CANVAS PRINTS
Ever so popular and available in a variety of colours are our canvas float frames. Available in a variety of colours and styles, the addition of a canvas float frame adds a luxurious finish and style and allows you to tie your artwork into the design of the room perfectly. With our high quality craftsmanship your exhibition wrapped canvas print is mounted 5mm from the frames edge so the wrap remains visible and the gap creates a shadow line. 
Turn-Around Time
Pricing Square
Pricing Rectangle
Rectangle Panoramic
Pricing A4 - A0